Product Description
Rubber Coupling, PU Coupling, Polyurethane Coupling (3A2006)
 
 
Description: the polyurethane elastomeric is a new material of polymer synthetic between rubber and plastic. It has both high strength of plastic and high elasticity of rubber. Its characteristics are: 1, a wide range of hardness. It still has rubber elongation and resilience at high hardness. The polyurethane elastomeric has a hardness range of Shore A10-D80. 2. high strength. At rubber hardness, the tensile strength, tear strength and load carrying capacity are much higher than general rubber material. At high hardness, its impact strength and flexural strength are much higher than plastic material. 3, wear-resistant. Its wear resistance is very outstanding, generally in the range of 0.01-0.10cm3/1.61km, about 3-5 times than rubber material. 4, oil resistant. The polyurethane elastomeric is a highly CZPT polymer compound which has low affinity with non-polar mineral oil and is hardly eroded in fuel oil and mechanical oil. 5, good resistance to oxygen and ozone. 6, excellent vibration absorption performance, can do damping and buffering. In the mold manufacturing industry, it replaces rubber and springs.7, has good low temperature performance. 8, radiation resistance. Polyurethane is highly resistant to high energy radiation and has satisfactory performance at 10-10 deg radiation dose. 9, with good machining performance.
The polyurethane coupling, rubber coupling are made by injection with high quality TPU material or mould CSM/SBR. It is designing and special for all kinds of metal shaft coupling with very good performance of high tensile strength, high wear resistant, high elastic resilience, water resistant, oil resistant and excellent fatigue resilience, high impact resistant etc. We have full sets injection moulds and supply full range of GR, GS, MT, ML, MH, Hb, HRC, L, T, NM and Gear J series couplings etc. with high quality and excellent experience. Apply to all kinds of industrial metal shaft coupling.
Specifications:
material: TPU, CSM/SBR, NBR, nylon etc.
color: yellow, red, purple, green, black, beige etc.
surface: smooth
tensile strength: 8-55Mpa
hardness: 70-98Shore A
elongation: 400%-650%
density: 1.25g/cm3
elasticity impact: >25%
tear strength: 35-155KN/m
akron abrasion loss:<0.05cm3/1.61km
compression set (22h*70°C):<10%
working temperature: 120°C
standard size for polyurethane coupling: 
GR14, GR19, GR24, GR28, GR38, GR42, GR48, GR55, GR65, GR75, GR90, GR100, GR110, GR125, GR140, GR160, GR180
GS5, GS7, GS9, GS12, GS14, GS19, GS24, GS28, GS38, GS42, GS48, GS550, GS65, GS75
MT1, MT2, MT3, MT4, MT5, MT6, MT7, MT8, MT9, MT10, MT11, MT12, MT13
ML1, ML2, ML3, ML4, ML5, ML6, ML7, ML8, ML9, ML10, ML11, ML12, ML13
MH45, MH55, MH65, MH80, MH90, MH115, MH130, MH145, MH175, MH200
HRC70, HRC90, HRC110, HRC130, HRC150, HRC180, HRC230, HRC280
L35, L50, L70, L75, L90/95, L99/100, L110, L150, L190, L225, L276
FALK-R 10R, 20R, 30R, 40R, 50R, 60R, 70R, 80R
SBT T40, T45, T50, T55, T60, T65, T70, T75, T80, T85, T90, T95, T100, T105, T108, T110, T115, T120, T125, T130, T135, T140, T145, T150, T154, T170, T185, T190, T210
Joong Ang CR0050, 0070, 571, 571, 2035, 2035A, 3545, 4560, 6070, 7080
MS571, MS571, MS1119, MS1424, MS1928, MS1938, MS2845, MS3860, MS4275, MS6510
D14, D14L, D20, D25, D30, D30L, D35, D40, D45, D49, D55, D65
5H, 6H, 7H, 8H, 9H, 10H, 11H
standard size for rubber coupling:
Hb80, Hb95, Hb110, Hb125, Hb140, Hb160, Hb180, Hb200, Hb240, Hb280, Hb315
HRC70, HRC90, HRC110, HRC130, HRC150, HRC180, HRC230, HRC280
L35, L50, L70, L75, L90/95, L99/100, L110, L150, L190, L225
NM50, NM67, NM82, NM97, NM112, NM128, NM148, NM168, NM194, NM214, NM240, NM265
NOR-MEX168-10, NOR-MEX194-10, NOR-MEX214-10, NOR-MEX240-10, NOR-MEX265-10
FCL1#, FCL2#, FCL3#, FCL4#, FCL5#, FCL6#, FCL7#, FCL8#
FCL90, FCL100, FCL112, FCL125, FCL140, FCL160, FCL180, FCL200, FCL224, FCL250, FCL280, FCL315, FCL335, FCL400, FCL450, FCL560, FCL630
Gear 3J, 4J, 5J, 6J, 7J, 8J, 9J, 10J, 11J, 12J, 13J, 14J
Hytre 4H, 5H, 6H, 7H, 8H, 9H, 11H
Tyre F40, F50, F60, F70, F80, F90, F100, F110, F120, F140, F160 
SBT T75, T80, T85, T90, T95, T100, T105, T108, T110, T115, T120, T125, T130, T135, T140, T145, T150, T154, T170, T210
FCLpin #1, #2, #3, #4, #5, #6, #8
GR42, GR48, GR55, GR65, GR75
DL1, DL2, DL3, DL4, DL5, DL6, DL7, DL8, DL9, DL10, DL11
standard size for nylon coupling:
NL1, NL2, NL3, NL4, NL5, NL6, NL7, NL8, NL9, NL10
M28, M32, M38, M42, M48, M58, M65
packing in bags, cartons, pallets or crates
OEM & customized size are agreed
special supply all kinds of steel coupling for FCL, NM, MH, HRC, Love Joy, Joongang, Centafelx, XL-GR, Tyre
***when you enquiry, pls confirm type, size number and quantity***
| | |
| --- | --- |
| Standard: | DIN, ANSI, GB, JIS, BSW |
| Material: | Plastic |
| Connection: | Flange |
| Surface Treatment: | Nothing |
| Head Type: | Mh Type |
| Elongation: | 650% |
Samples:

US$ 0/Piece

1 Piece(Min.Order)

|
Request Sample
Customization:

Available

|

Customized Request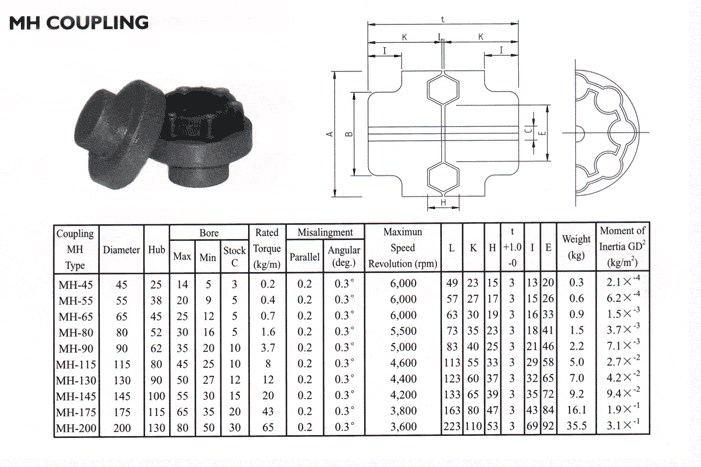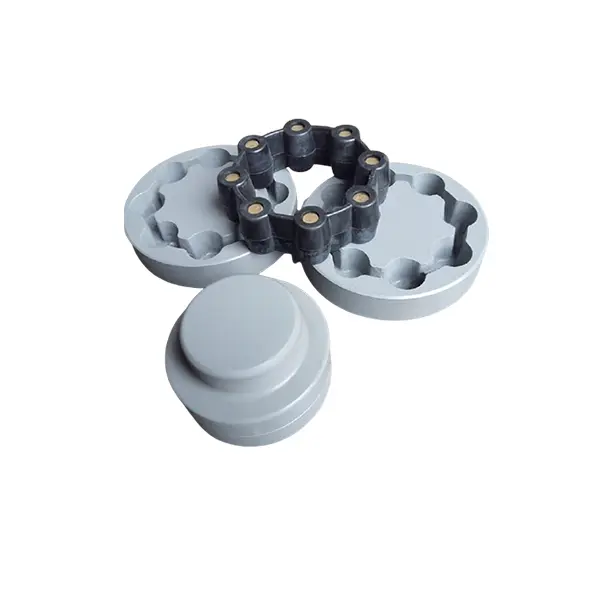 Can flexible couplings accommodate high torque and high-speed applications?
Yes, flexible couplings can accommodate both high torque and high-speed applications, but the suitability depends on the specific design and material of the flexible coupling. Different types of flexible couplings have varying torque and speed capacities, and it's crucial to select the right type of coupling based on the application requirements.
High Torque Applications:
Some flexible couplings, such as gear couplings and disc couplings, are designed to handle high torque levels. Gear couplings consist of toothed hubs that mesh with each other, providing a robust and efficient torque transmission. They are commonly used in heavy-duty industrial applications, such as steel mills, mining equipment, and power generation plants, where high torque loads are prevalent.
Disc couplings are also suitable for high torque applications. They use a series of flexible metal discs that can handle significant torque while compensating for misalignment. Disc couplings are often used in high-speed machinery and critical applications where precise torque transmission is essential.
High-Speed Applications:
Flexible couplings can also be used in high-speed applications. For instance, certain disc couplings, elastomeric couplings, and grid couplings are capable of handling high rotational speeds. These couplings have low inertia, which means they can respond quickly to changes in speed and provide efficient power transmission at high RPMs.
Elastomeric couplings, such as jaw couplings and tire couplings, are commonly used in various industrial applications, including pumps, compressors, and fans, where both torque and speed requirements are high. They offer good flexibility and damping properties, making them suitable for applications with high-speed variations and vibrations.
Considerations:
When selecting a flexible coupling for high torque and high-speed applications, several factors should be considered:
The torque and speed ratings provided by the coupling manufacturer should be checked to ensure they meet or exceed the application's requirements.
The design and materials of the coupling should be suitable for the specific operating conditions, including temperature, environment, and potential exposure to corrosive substances.
Proper alignment and installation of the coupling are critical to ensure optimal performance and prevent premature wear.
In some cases, it may be necessary to use additional components, such as torque limiters or speed reducers, to protect the coupling and the connected equipment from excessive loads or speed fluctuations.
In conclusion, flexible couplings can indeed accommodate high torque and high-speed applications, but the appropriate coupling type and proper selection are essential to ensure reliable and efficient performance in these demanding conditions.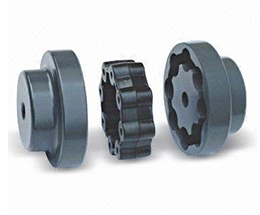 What are the differences between elastomeric and metallic flexible coupling designs?
Elastomeric and metallic flexible couplings are two distinct designs used to transmit torque and accommodate misalignment in mechanical systems. Each type offers unique characteristics and advantages, making them suitable for different applications.
Elastomeric Flexible Couplings:
Elastomeric flexible couplings, also known as flexible or jaw couplings, employ an elastomeric material (rubber or similar) as the flexible element. The elastomer is typically molded between two hubs, and it acts as the connector between the driving and driven shafts. The key differences and characteristics of elastomeric couplings include:
Misalignment Compensation: Elastomeric couplings are designed to handle moderate levels of angular, parallel, and axial misalignment. The elastomeric material flexes to accommodate the misalignment while transmitting torque between the shafts.
Vibration Damping: The elastomeric material in these couplings offers excellent vibration dampening properties, reducing the transmission of vibrations from one shaft to another. This feature helps protect connected equipment from excessive vibrations and enhances system reliability.
Shock Load Absorption: Elastomeric couplings can absorb and dampen shock loads, protecting the system from sudden impacts or overloads.
Cost-Effective: Elastomeric couplings are generally more cost-effective compared to metallic couplings, making them a popular choice for various industrial applications.
Simple Design and Installation: Elastomeric couplings often have a straightforward design, allowing for easy installation and maintenance.
Lower Torque Capacity: These couplings have a lower torque capacity compared to metallic couplings, making them suitable for applications with moderate torque requirements.
Common Applications: Elastomeric couplings are commonly used in pumps, compressors, fans, conveyors, and other applications that require moderate torque transmission and misalignment compensation.
Metallic Flexible Couplings:
Metallic flexible couplings use metal components (such as steel, stainless steel, or aluminum) to connect the driving and driven shafts. The metallic designs can vary significantly depending on the type of metallic coupling, but some general characteristics include:
High Torque Capacity: Metallic couplings have higher torque transmission capabilities compared to elastomeric couplings. They are well-suited for applications requiring high torque handling.
Misalignment Compensation: Depending on the design, some metallic couplings can accommodate minimal misalignment, but they are generally not as flexible as elastomeric couplings in this regard.
Stiffer Construction: Metallic couplings are generally stiffer than elastomeric couplings, offering less vibration dampening but higher torsional stiffness.
Compact Design: Metallic couplings can have a more compact design, making them suitable for applications with limited space.
Higher Precision: Metallic couplings often offer higher precision and concentricity, resulting in better shaft alignment.
Higher Cost: Metallic couplings are typically more expensive than elastomeric couplings due to their construction and higher torque capacity.
Common Applications: Metallic couplings are commonly used in high-speed machinery, precision equipment, robotics, and applications with high torque requirements.
Summary:
In summary, the main differences between elastomeric and metallic flexible coupling designs lie in their flexibility, torque capacity, vibration dampening, cost, and applications. Elastomeric couplings are suitable for applications with moderate torque, misalignment compensation, and vibration dampening requirements. On the other hand, metallic couplings are chosen for applications with higher torque and precision requirements, where flexibility and vibration dampening are less critical.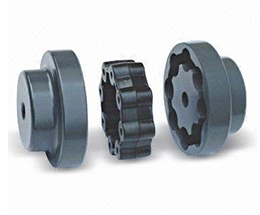 What is a flexible coupling and how does it work?
A flexible coupling is a mechanical device used to connect two shafts while allowing for relative movement between them. It is designed to transmit torque from one shaft to another while compensating for misalignment, vibration, and shock. Flexible couplings are essential components in various rotating machinery and systems, as they help protect the connected equipment and enhance overall performance.
Types of Flexible Couplings:
There are several types of flexible couplings, each with its unique design and characteristics. Some common types include:
Jaw Couplings: Jaw couplings feature elastomer spiders that fit between two hubs. They can accommodate angular and parallel misalignment while dampening vibrations.
Disc Couplings: Disc couplings use thin metallic discs to connect the shafts. They are highly flexible and provide excellent misalignment compensation.
Gear Couplings: Gear couplings use gear teeth to transmit torque. They offer high torque capacity and can handle moderate misalignment.
Beam Couplings: Beam couplings use a single piece of flexible material, such as a metal beam, to transmit torque while compensating for misalignment.
Bellows Couplings: Bellows couplings use a bellows-like structure to allow for axial, angular, and parallel misalignment compensation.
Oldham Couplings: Oldham couplings use three discs, with the middle one having a perpendicular slot to allow for misalignment compensation.
How a Flexible Coupling Works:
The operation of a flexible coupling depends on its specific design, but the general principles are similar. Let's take the example of a jaw coupling to explain how a flexible coupling works:
Two shafts are connected to the coupling hubs on either side, with an elastomer spider placed between them.
When torque is applied to one shaft, it causes the spider to compress and deform slightly, transmitting the torque to the other shaft.
In case of misalignment between the shafts, the elastomer spider flexes and compensates for the misalignment, ensuring smooth torque transmission without imposing excessive loads on the shafts or connected equipment.
The elastomer spider also acts as a damping element, absorbing vibrations and shocks during operation, which reduces wear on the equipment and enhances system stability.
Overall, the flexibility and ability to compensate for misalignment are the key features that allow a flexible coupling to function effectively. The choice of a specific flexible coupling type depends on the application's requirements, such as torque capacity, misalignment compensation, and environmental conditions.



editor by CX 2023-08-31