Product Description
Product Description
We are the leading top Chinese coupling manufacturer, and are specializing in various high quality HRC coupling.
KASIN MH Shaft Couplings
1. Material:the hub of the Couplings is Cast Iron,the Elastomer is Rubbe
2. OEM and ODM are available
3. High efficient in transmission
4. Finishing:The surface treatment is normally Phosphated and painting
5. High quality with competitive price
6. Different models suitable for your different demands
7. Stock for different bore size on both sides available.
8. Application in wide range of environment.
9. Quick and easy mounting and disassembly.
10. Resistant to oil and electrical insulation.
11. Identical clockwise and anticlockwise rotational characteristics.
12. Small dimension, low weight, high transmitted torque.
13. It has good performance on compensating the misalignment.
14.Feature of couplings:free of maintenance,simple structure and easy to install.
15.Application:Mainly used in the mining, metallurgical, cement, chemicals, construction, building materials, electric power, telecommunications, textiles, and transportation departments.
Techncial Date
Related Products 
                            Roller Chain Coupling                                               FCL Coupling                                                   Curved Jaw Coupling
Manufacturing
Applications:  
NM couplings are offered in the industry's largest variety of stock bore/keyway combinations. These couplings require no lubrication and provide highly reliable service for light, medium, and heavy duty electrical motor and internal combustion power transmission applications.  Applications include power transmission to industrial equipment such as pumps, gear boxes, compressors, blowers, mixers, and conveyors.
About Us
Kasin group was established in 1989, and its first product is casting carrier trolley for power & free conveyor system. In 1995, CHINAMFG purchased HangZhou Guoping Forging Factory (LYGP), a marketer of forging bolts & nuts to power & free line market in china. With this acquisition, CHINAMFG positioned itself as 1 of major parts suppliers of monorail and power & free conveyor system in china.
In 2/8822 0571 -57152031              Fax: 86~/8822 0571 -57152030
 
Http://kasinchain      
| | |
| --- | --- |
| Standard Or Nonstandard: | Standard |
| Shaft Hole: | 16-52 |
| Torque: | >80N.M |
| Bore Diameter: | as Your Require |
| Speed: | 3500 |
| Structure: | Flexible |
Samples:

US$ 3/Set

1 Set(Min.Order)

|
Request Sample
Customization:

Available

|

Customized Request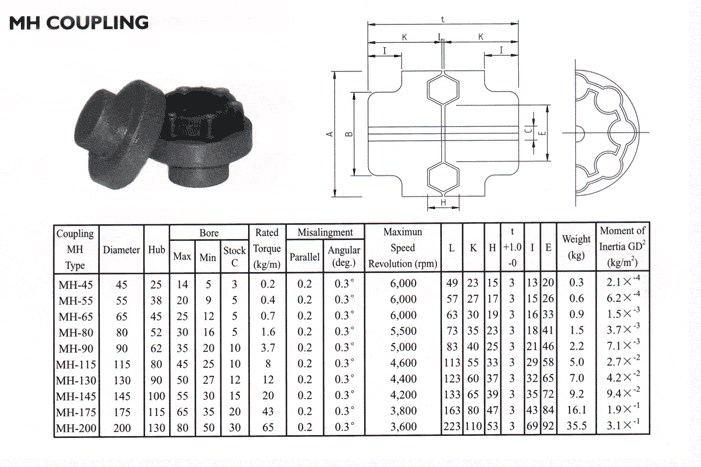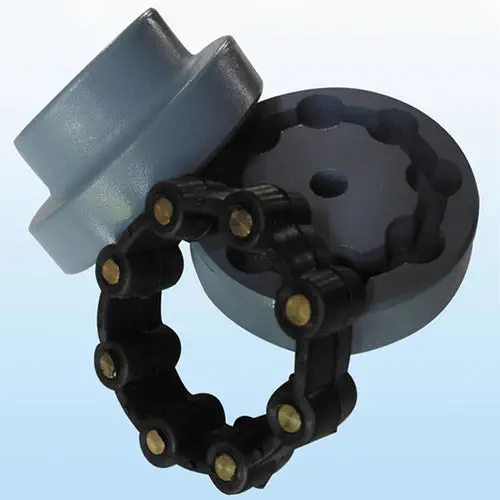 Can flexible couplings be used in both horizontal and vertical shaft arrangements?
Yes, flexible couplings can be used in both horizontal and vertical shaft arrangements. The design of flexible couplings allows them to accommodate misalignment and compensate for angular, parallel, and axial displacements between the shafts, making them suitable for various shaft orientations.
Horizontal Shaft Arrangements:
In horizontal shaft arrangements, where the shafts are parallel to the ground or horizontal plane, flexible couplings are commonly used to connect two rotating shafts. These couplings help transmit torque from one shaft to another while accommodating any misalignment that may occur during operation. Horizontal shaft arrangements are common in applications such as pumps, compressors, conveyors, and industrial machinery.
Vertical Shaft Arrangements:
In vertical shaft arrangements, where the shafts are perpendicular to the ground or vertical plane, flexible couplings are also applicable. Vertical shafts often require couplings that can handle the additional weight and forces resulting from gravity. Flexible couplings designed for vertical applications can support the weight of the rotating equipment while allowing for some axial movement to accommodate thermal expansion or other displacements. Vertical shaft arrangements are commonly found in applications such as pumps, gearboxes, turbines, and some marine propulsion systems.
Considerations for Vertical Shaft Arrangements:
When using flexible couplings in vertical shaft arrangements, there are a few additional considerations to keep in mind:
Thrust Load: Vertical shafts can generate thrust loads, especially in upward or downward direction. The flexible coupling should be selected based on its capacity to handle both radial and axial loads to accommodate these forces.
Lubrication: Some vertical couplings may require additional lubrication to ensure smooth operation and reduce wear, particularly if they are exposed to high axial loads or extended vertical shafts.
Support and Bearing: Proper support and bearing arrangements for the vertical shaft are essential to prevent excessive shaft deflection and ensure the flexible coupling functions correctly.
Overall, flexible couplings are versatile and adaptable to various shaft orientations, providing efficient power transmission and misalignment compensation. Whether in horizontal or vertical arrangements, using the appropriate flexible coupling design and considering the specific application requirements will help ensure reliable and efficient operation.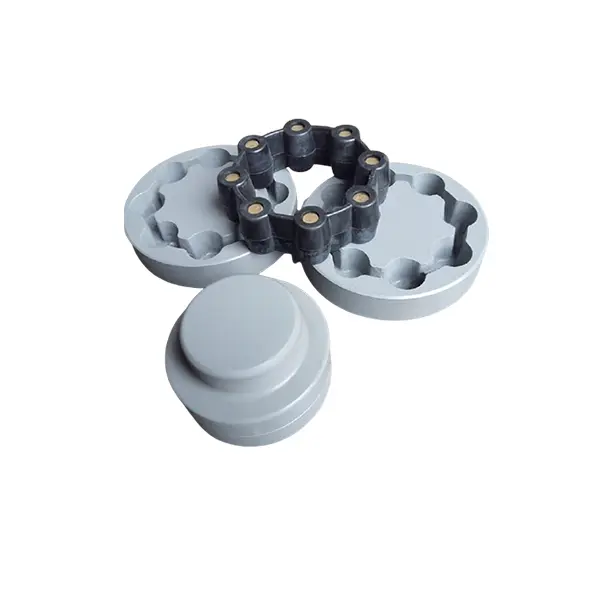 How does a flexible coupling handle angular, parallel, and axial misalignment?
A flexible coupling is designed to accommodate various types of misalignment between two rotating shafts: angular misalignment, parallel misalignment, and axial misalignment. The flexibility of the coupling allows it to maintain a connection between the shafts while compensating for these misalignment types. Here's how a flexible coupling handles each type of misalignment:
Angular Misalignment: Angular misalignment occurs when the axes of the two shafts are not collinear and form an angle with each other. Flexible couplings can handle angular misalignment by incorporating an element that can flex and bend. One common design is the "spider" or "jaw" element, which consists of elastomeric materials. As the shafts are misaligned, the elastomeric element can deform slightly, allowing the coupling to accommodate the angular offset between the shafts while still transmitting torque.
Parallel Misalignment: Parallel misalignment, also known as offset misalignment, occurs when the axes of the two shafts are parallel but not perfectly aligned with each other. Flexible couplings can handle parallel misalignment through the same elastomeric element. The flexible nature of the element enables it to shift and adjust to the offset between the shafts, ensuring continuous power transmission while minimizing additional stresses on the machinery.
Axial Misalignment: Axial misalignment, also called end-play misalignment, occurs when the two shafts move closer together or farther apart along their common axis. Flexible couplings can handle axial misalignment through specific designs that allow limited axial movement. For instance, some couplings use slotted holes or a floating member that permits axial displacement while maintaining the connection between the shafts.
By providing the capability to handle angular, parallel, and axial misalignment, flexible couplings offer several advantages for power transmission systems:
They help to prevent premature wear and damage to the connected equipment, reducing maintenance and replacement costs.
They minimize vibration and shock loads, enhancing the overall smoothness and reliability of the machinery.
They reduce the risk of equipment failure due to misalignment-induced stresses, improving the system's operational life.
They allow for easier installation and alignment adjustments, saving time and effort during setup and maintenance.
Overall, flexible couplings play a crucial role in handling misalignment and ensuring efficient power transmission in various industrial applications.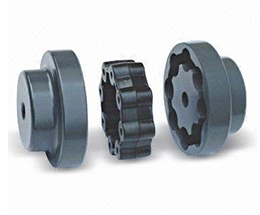 Are there any limitations or disadvantages of using flexible couplings?
While flexible couplings offer numerous advantages, they do come with some limitations and disadvantages that should be considered when selecting them for specific applications. Here are some of the common limitations and disadvantages of using flexible couplings:
Torsional Stiffness: Flexible couplings provide some level of torsional flexibility, which is advantageous in many applications. However, in systems that require high precision and minimal angular deflection, the inherent flexibility of the coupling may not be suitable. In such cases, a rigid coupling may be more appropriate.
Limitation in High-Torque Applications: While some flexible couplings can handle moderate to high torque levels, they may not be as well-suited for extremely high-torque applications. In such cases, specialized couplings, such as gear couplings, may be required to handle the high torque demands.
Temperature Limitations: The performance of certain flexible coupling materials, especially elastomers and plastics, may be affected by extreme temperature conditions. High temperatures can lead to premature wear and reduced lifespan of the coupling, while low temperatures may result in reduced flexibility and potential brittleness.
Chemical Compatibility: Certain flexible coupling materials may not be compatible with certain chemicals or substances present in the application's environment. Exposure to chemicals can cause degradation or corrosion of the coupling material, affecting its performance and lifespan.
Installation and Alignment: Flexible couplings require proper installation and alignment to function effectively. If not installed correctly, misalignment issues may persist, leading to premature wear and reduced performance. Aligning the shafts accurately can be time-consuming and may require specialized equipment and expertise.
Cost: In some cases, flexible couplings may be more expensive than rigid couplings due to their more complex design and use of specialized materials. However, the cost difference is often justified by the benefits they offer in terms of misalignment compensation and vibration damping.
Service Life: The service life of a flexible coupling can vary depending on the application's conditions and the quality of the coupling. Regular maintenance and timely replacement of worn or damaged parts are essential to ensure the coupling's longevity and prevent unexpected failures.
Despite these limitations, flexible couplings remain highly valuable components in a wide range of applications, providing efficient torque transmission and compensating for misalignment. Proper selection, installation, and maintenance can help mitigate many of the disadvantages associated with flexible couplings, ensuring their reliable and long-lasting performance in various mechanical systems.



editor by CX 2023-09-30