Product Description
Flexible Coupling MH45 COUPLING SET/RUBBER ELEMENT
Description 
* Extremely resistant to wear, oil, CZPT and ageing
* Also resistant to hydrolysis (ideal for tropical climates)
* Protect the drive against dynamic overload
* Good physical properties
* Wide range of application
* Easy installation
Operating Conditions
Temperature : -35°C ~+ 100°C
Material : Rubber
Hardness : 90 -95 Shore A
Color : Black
 
 Feartures:
About Xingda since 1984
HangZhou Melchizedek Import & Export Co., Ltd. is a leader manufactur in mechanism field and punching/stamping field since 1984. Our main product, NMRV worm gear speed reducer and series helical gearbox, XDR,XDF, XDK, XDShave reached the advanced technique index of the congeneric European and Janpanese products, We offer standard gears, sprockets, chains, pulleys, couplings, bushes and so on. We also can accept ordersof  non-standard products, such as gears, shafts, punching parts ect, according to customers' Drawings or samples. 
Our company has complete set of equipment including CNC, lathes, milling machines, gear hobbing machine, gear grinding machine, gear honing machine, gear shaping machine, worm grinder, grinding machines, drilling machines, boringmachines, planer, drawing benches, punches, hydraulic presses, plate shearing machines and so on. We have advanced testing equipments also. 
Our company has established favorable cooperation relationships with sub-suppliers involving casting, raw material, heat treatment, surface finishing and so on.
| | |
| --- | --- |
| Standard Or Nonstandard: | Standard |
| Shaft Hole: | 19-32 |
| Torque: | >80N.M |
| Bore Diameter: | 19mm |
| Speed: | 4000r/M |
| Structure: | Flexible |
Samples:

US$ 20/Piece

1 Piece(Min.Order)

|
Request Sample
Customization:

Available

|

Customized Request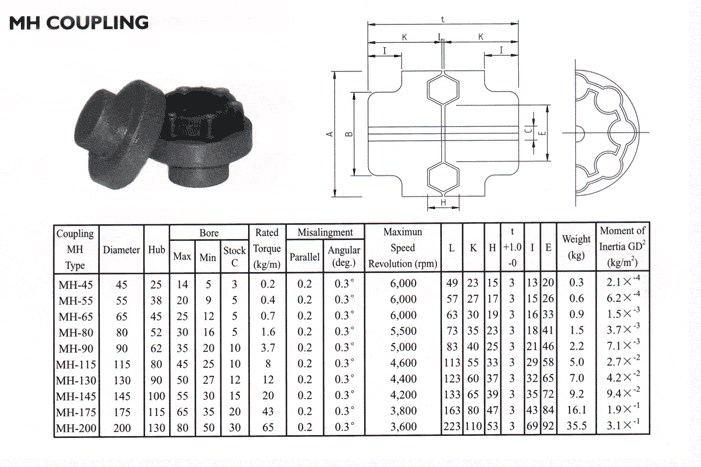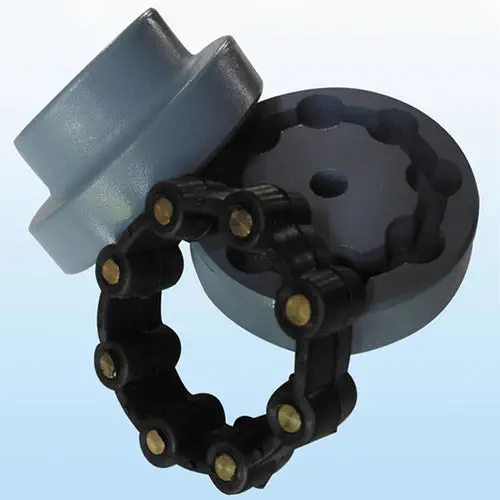 How do flexible couplings compare to other types of couplings in terms of performance?
Flexible couplings offer distinct advantages and disadvantages compared to other types of couplings, making them suitable for specific applications. Here is a comparison of flexible couplings with other commonly used coupling types in terms of performance:
Rigid couplings are simple in design and provide a solid connection between two shafts, allowing for precise torque transmission. They do not offer any flexibility and are unable to compensate for misalignment. As a result, rigid couplings require accurate shaft alignment during installation, and any misalignment can lead to premature wear and increased stress on connected equipment. Rigid couplings are best suited for applications where shaft alignment is precise, and misalignment is minimal, such as in well-aligned systems with short shaft spans.
Flexible couplings, as discussed previously, excel at compensating for misalignment between shafts. They offer angular, parallel, and axial misalignment compensation, reducing stress on connected components and ensuring smooth power transmission. Flexible couplings are versatile and can handle various applications, from light-duty to heavy-duty, where misalignment, vibration damping, or shock absorption is a concern. They provide a cost-effective solution for many industrial, automotive, and machinery applications.
Oldham couplings are effective at compensating for angular misalignment while maintaining constant velocity transmission. They offer low backlash and electrical isolation between shafts, making them suitable for precision motion control and applications where electrical interference must be minimized. However, Oldham couplings have limited capacity to handle parallel or axial misalignment, and they may not be suitable for applications with high torque requirements.
Gear couplings are robust and can handle high torque levels, making them suitable for heavy-duty applications such as mining and steel mills. They offer good misalignment compensation and have a compact design. However, gear couplings are relatively more expensive and complex than some other coupling types, and they may generate more noise during operation.
Disc couplings provide excellent misalignment compensation, including angular, parallel, and axial misalignment. They have high torsional stiffness, making them ideal for applications where accurate torque transmission is critical. Disc couplings offer low inertia and are suitable for high-speed applications. However, they may be more sensitive to shaft misalignment during installation, requiring precise alignment for optimal performance.
The choice of coupling type depends on the specific requirements of the application. Flexible couplings excel in compensating for misalignment and vibration damping, making them versatile and cost-effective solutions for many applications. However, in situations where high torque, precision, or specific electrical isolation is necessary, other coupling types such as gear couplings, disc couplings, or Oldham couplings may be more suitable. Proper selection, installation, and maintenance of the coupling are essential to ensure optimal performance and reliability in any mechanical system.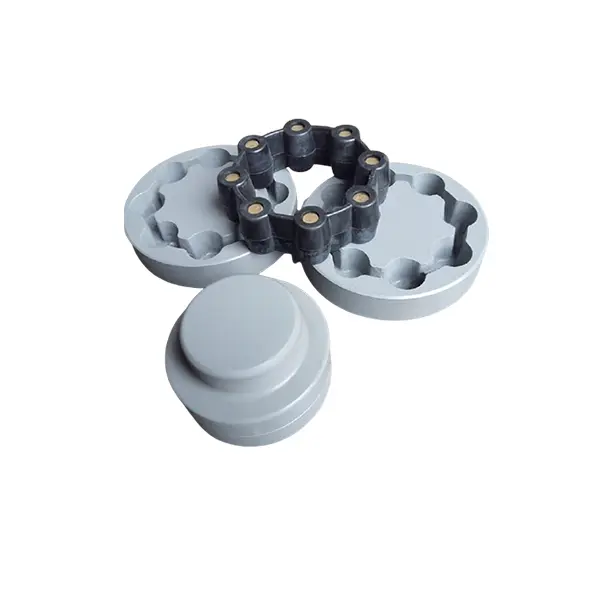 How does a flexible coupling handle angular, parallel, and axial misalignment?
A flexible coupling is designed to accommodate various types of misalignment between two rotating shafts: angular misalignment, parallel misalignment, and axial misalignment. The flexibility of the coupling allows it to maintain a connection between the shafts while compensating for these misalignment types. Here's how a flexible coupling handles each type of misalignment:
Angular Misalignment: Angular misalignment occurs when the axes of the two shafts are not collinear and form an angle with each other. Flexible couplings can handle angular misalignment by incorporating an element that can flex and bend. One common design is the "spider" or "jaw" element, which consists of elastomeric materials. As the shafts are misaligned, the elastomeric element can deform slightly, allowing the coupling to accommodate the angular offset between the shafts while still transmitting torque.
Parallel Misalignment: Parallel misalignment, also known as offset misalignment, occurs when the axes of the two shafts are parallel but not perfectly aligned with each other. Flexible couplings can handle parallel misalignment through the same elastomeric element. The flexible nature of the element enables it to shift and adjust to the offset between the shafts, ensuring continuous power transmission while minimizing additional stresses on the machinery.
Axial Misalignment: Axial misalignment, also called end-play misalignment, occurs when the two shafts move closer together or farther apart along their common axis. Flexible couplings can handle axial misalignment through specific designs that allow limited axial movement. For instance, some couplings use slotted holes or a floating member that permits axial displacement while maintaining the connection between the shafts.
By providing the capability to handle angular, parallel, and axial misalignment, flexible couplings offer several advantages for power transmission systems:
They help to prevent premature wear and damage to the connected equipment, reducing maintenance and replacement costs.
They minimize vibration and shock loads, enhancing the overall smoothness and reliability of the machinery.
They reduce the risk of equipment failure due to misalignment-induced stresses, improving the system's operational life.
They allow for easier installation and alignment adjustments, saving time and effort during setup and maintenance.
Overall, flexible couplings play a crucial role in handling misalignment and ensuring efficient power transmission in various industrial applications.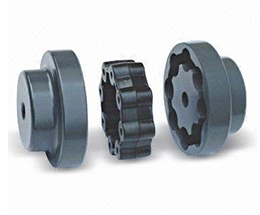 What is a flexible coupling and how does it work?
A flexible coupling is a mechanical device used to connect two shafts while allowing for relative movement between them. It is designed to transmit torque from one shaft to another while compensating for misalignment, vibration, and shock. Flexible couplings are essential components in various rotating machinery and systems, as they help protect the connected equipment and enhance overall performance.
Types of Flexible Couplings:
There are several types of flexible couplings, each with its unique design and characteristics. Some common types include:
Jaw Couplings: Jaw couplings feature elastomer spiders that fit between two hubs. They can accommodate angular and parallel misalignment while dampening vibrations.
Disc Couplings: Disc couplings use thin metallic discs to connect the shafts. They are highly flexible and provide excellent misalignment compensation.
Gear Couplings: Gear couplings use gear teeth to transmit torque. They offer high torque capacity and can handle moderate misalignment.
Beam Couplings: Beam couplings use a single piece of flexible material, such as a metal beam, to transmit torque while compensating for misalignment.
Bellows Couplings: Bellows couplings use a bellows-like structure to allow for axial, angular, and parallel misalignment compensation.
Oldham Couplings: Oldham couplings use three discs, with the middle one having a perpendicular slot to allow for misalignment compensation.
How a Flexible Coupling Works:
The operation of a flexible coupling depends on its specific design, but the general principles are similar. Let's take the example of a jaw coupling to explain how a flexible coupling works:
Two shafts are connected to the coupling hubs on either side, with an elastomer spider placed between them.
When torque is applied to one shaft, it causes the spider to compress and deform slightly, transmitting the torque to the other shaft.
In case of misalignment between the shafts, the elastomer spider flexes and compensates for the misalignment, ensuring smooth torque transmission without imposing excessive loads on the shafts or connected equipment.
The elastomer spider also acts as a damping element, absorbing vibrations and shocks during operation, which reduces wear on the equipment and enhances system stability.
Overall, the flexibility and ability to compensate for misalignment are the key features that allow a flexible coupling to function effectively. The choice of a specific flexible coupling type depends on the application's requirements, such as torque capacity, misalignment compensation, and environmental conditions.



editor by CX 2023-09-05